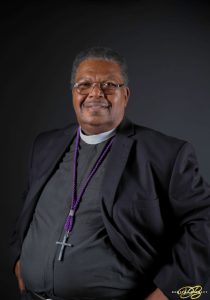 Dr. Semuel Causey is the Pastor of McGhee of Memorial Temple Church of God in Christ (C.O.G.I.C.) and Faith and Prayer House C.O.G.I.C in Alabama. 
Rev. Causey has been a pastoral minister for over 38 years serving two churches in Alabama and one church in Mississippi. He has dedicated his life to serving the community through his ministry and has had a positive generational impact on families and individuals in the community. During his pastoral leadership, he also served as the District Superintendent in the Atmore District Alabama Second Jurisdiction C.O.G.I.C for over 20 years and First Administrative Assistant of Alabama Second Jurisdiction for 20 years. He is a member of the Pastors and Elders Council in Alabama.  One of his favorite scriptures is Colossians 1:27 KJV which says, "To whom God would make known what is the riches of the glory of this mystery among the Gentiles, which is Christ in you, the hope of glory". 
In 2015, dynamic leader Superintendent Causey, coordinated the logistics aspect of the International Bishop Conference for C.O.G.I.C Worldwide.  Additionally, he served as the Financial Secretary for Alabama Second Jurisdiction for 20 years. Also, he served as the Financial Secretary for Alabama Second Jurisdiction for 20 years.
During his ministry, he has received numerous awards and accolades that include the C.G.O.I.C Service Awards for Pastoral Leadership, District Superintendent, and 1st Administrative Assistant.
"God has given all mankind the opportunity to choose salvation and have access to His kingdom.  Those who were once thought not to have access to His glory can now embrace the love of God and share it confidently within our communities as well as throughout the body of Christ" says Superintendent Causey.